Donor comfort is why they come back!
shown here with the MD 3504 DVD holder ( screen not included)
MD3500P DONOR LOUNGE
SUPPORT & COMFORT
This reclining lounge can be tilted forward for easy entry. It can also be tilted further back than most other lounges making it a lot easier to treat donor reactions. Our lounge includes an adjustable head rest that supports your upper shoulders, neck and head. The arm rest is heavily foamed so your elbow sinks into the cushion for more comfort. It adjusts in or out from the chair, up & down and swings out of the way for easy access. This lounge is built with quality materials to provide long life and dependable service. Each lounge includes 2 arm rests and 1 head rest.
**Weight capacity 400lbs


OPTIONS:

* Scale mount swings to either side eliminating the cost of a second scale mount.
* Assortment of colors are available at no additional charge.
* DVD Holder, mounting pole for TV or DVD screen

Click on the photo to send an e-mail request for more information



MD 2500 Mobile Donor Lounge
A Professional and Modern Look in Donor Lounges
Used Nation wide by American Red Cross and many other Blood Donation Centers, the MD2500 Mobile Donor Lounge is state of the art in portable lounges. It is safe to operate, and is extremely convenient to set up and fold for storage. Both our Standard (MD 2500) and Long Leg (MD2500LL) lounges are shown in the photo above. All covers are removable for cleaning, repair or replacement. Each lounge includes: 1 arm rest, 1 head rest and seat cushion.

ACCESSORY OPTIONS: Additional Arm Rests (MD 2501)Scale Mounts (MD 2502) Carriers (MD 2504) and Back Pouch (MD 2505) can be purchased seperately.
Lounge capacity - 350 pounds
Click on any photo to e-mail a request for pricing or specifications.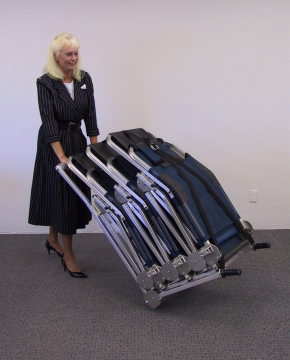 MD 2500-3 three lounges w/ cart
The MD 2500-3 Mobile Donor Lounges w/ cart are the perfect solution to accommodate Mobile Blood Drives. These portable, easy to set up lounges are comfortable and easy to clean. They have four positions, three of which are locking for optimum comfort and convenience.
Order individually (MD 2500) or in sets of 3 with a handy carrier (MD 2500-3). The cart carries three lounges and can transport additional supplies as needed. This makes it easy to maneuver into small elevators, through narrow doorways and halls, and onto vans and trucks without the need for a loading platform.
Safety of operation, quality manufacturing, convenience and price make the MD 2500 Mobile Donor Lounge a proven winner with Blood Donor Centers worldwide.
click on this photo to send an e-,mail request for pricing or specification
The MD 4000 Donor Lounge was designed to adjust to treat donor reactions quickly and efficiently. The arm rest adjusts up and down, turns and swings in and out to accommodate different body sizes. No electric power is needed. Its reclining style adds comfort by providing complete head, neck and shoulder support that adjusts to fit the individual. Built of the finest materials for durability.
Weight Capacity - 350 pounds
OPTIONS: Scale Mount (MD 4002), Arm Rest Pouch (MD 4003), DVD Holder (MD 4004), IV Pole (MD 4006), Assortment of fabric colors available at no additional charge. Shown here in Turquoise and Platinum.